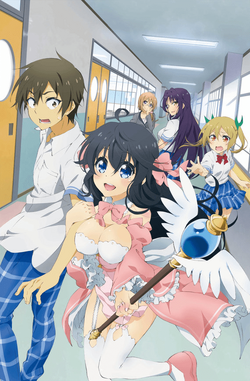 And you thought there is never a girl online? (ネトゲの嫁は女の子じゃないと思った?, Netoge no Yome wa Onna no Ko Janai to Omotta?, lit. "You Thought Your Online Game Wife Wasn't A Girl??), produced by Project No.9 ran from April 7 to June 23, 2016 on AT-X. The opening theme is "1st Love Story" by Luce Twinke Wink☆, and the ending theme is "Zero Ichi Kiseki" (ゼロイチキセキ, lit. "Zero One Miracle") by Yoshino Nanjō.Universal Pictures will release the series in the UK.
Synopsis
Teenager Hideki Nishimura plays a massively multiplayer online role-playing game called Legendary Age (LA), but one day he proposes online to a girl who tells him she is really a man, so he swears off online marriages. Two years later, he has been involved with a guild and eventually accepts an in-game marriage offer from his persistent guildmate, Ako. When the guild has their first-ever real-life meeting, Hideki is shocked to discover that his teammates are not only all girl gamers, but they also attend his school. The story follows their adventures as they form a school club to play the game while Hideki tries to help Ako, who is infatuated with Hideki as his game character, try to separate fantasy from reality.
Episode Covers
Episode List
Community content is available under
CC-BY-SA
unless otherwise noted.